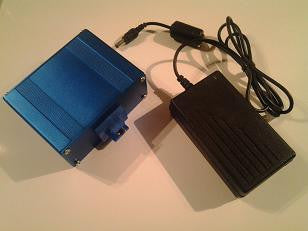 Lithium Battery Reconditioner Rental For Use With SEGWAY® PN#20967-00001 73.6V Batteries (Rental, 5 Uses, Continental USA Only)
---
This rental unit plugs directly into your SEGWAY® PN#20967-00001 73.6V lithium battery pack and comes with its own power supply. This device is specifically designed to allow lithium batteries that have been over-discharged to charge again. If your batteries are 3-4yr old or less this machine is likely to be for you. Not sure how old your batteries are? Click here to learn where to check. If your lithium cells are older, have leaked, are dead from usage, or just starting to get weak this unit will not work for you. This unit will allow you to run five reconditioning cycles for this fee. This is enough cycles to recondition two SEGWAY® lithium battery packs if their condition allows. Due to the many factors related to successful battery reconditioning we cannot and shall not guarantee or accurately predict reconditioning results for any given situation or battery. $500 Security Deposit - $325 Refund when returned on time in excellent condition. $175+S&H is the final cost for the rental. The maximum amount of time this unit is to be in customer possession is 5 business days (Excluding shipping time). An additional fee of $30/day will apply if it is kept for longer. The final fees for this rental are non-refundable. 

This item is only available for shipment within the continental USA.
THIS DEVICE DOES NOT WORK ON NIMH, NCG2004-N, MINI-PRO, OR ANY OTHER TYPES OF BATTERIES! It is ONLY intended for Segway 73.6V / 5.2Ah or MTO 73.6V / 6Ah batteries.  
MTO Battery® claims no affiliation or endorsement from Segway Inc. SEGWAY® is a registered trademark of Segway Inc.
Similar words: Segway Battery Reviver, Segway Battery Boost, Segway Battery Overcharge, Segway Battery Charging, 
---
Share this Product
---
More from this collection